World capital of yoga "Rishikesh" is home to the best is home to some of the best yoga schools in the world. The best yoga school in Rishikesh is one that offers a unique blend of a spiritual atmosphere, experienced staff and ancient practices of yoga.
As we know there are many yoga schools in Rishikesh which is providing yoga courses and best yoga teacher training in Rishikesh. Every yoga school has its own uniqueness and courses, but among all Mind flow Harmony is the best yoga school in Rishikesh. The environment at Mind flow Harmony is conducive to learning, with a peaceful and spiritual atmosphere which makes it the best yoga school in Rishikesh. In addition, the combination of the spiritual atmosphere, experienced staff and ancient practice of yoga, creates a unique learning experience that can be found only in Mind flow Harmony.
Table of Contents
The Mind flow Harmony yoga program is designed to help students gain the knowledge, experience and confidence to become successful yoga teachers. The yoga courses offered by Mind flow Harmony are a comprehensive and intensive course that covers all aspects of yoga. The curriculum includes-
Asanas,
Pranayama,
Meditation,
Anatomy and Physiology,
Yogic philosophy, and
Teaching methodology.
The teachers are highly knowledgeable and experienced in their respective fields and provide quality guidance and support to their students.
Join Our 100 Hour Yoga Teacher Training In Rishikesh to become a certified Yoga Teacher
Mind flow Harmony also offers various workshops and retreats throughout the year. These sessions are a great way for students to gain deeper insight into yoga and to further develop their practice. Participants will have the opportunity to explore different aspects of yoga, such as kriyas, chanting, and pranayama.
The Mind flow Harmony yoga school also offers a variety of amenities and services like accommodation, food, and recreational activities. The facilities are designed to ensure that students can focus on their studies, while still enjoying the benefits of being in Rishikesh.
Mind flow Harmony is committed to helping its students become successful yoga teachers and is dedicated to providing high-quality training. With a comprehensive curriculum, experienced teachers, modern facilities, and comfortable accommodation, Mind flow Harmony is the best yoga school in Rishikesh.
Join our 200 Hour Yoga Teacher Training In Rishikesh and Become a Certified Yoga Teacher
The Spiritual Heart of Yoga: Rishikesh
Rishikesh, has been a spiritual center for thousands of years. Rishikesh is widely known for its ashrams and temples, and it is the birthplace of the popular spiritual practice of yoga. The spiritual heart of yoga in Rishikesh is the Lakshman Jhula Bridge. It is a symbol of the spiritual journey that practitioners of yoga can take. It connects the banks of the Ganges River, and is a popular spot for meditation and reflection.
Rishikesh is situated in the Himalayan foothills along the banks of the Ganges River and is a sacred city for Hindus and a popular destination for yoga enthusiasts from around the world. Visitors can experience the essence of yoga by participating in yoga classes, workshops, and retreats, or by simply being in the peaceful and spiritual atmosphere of the city. They can also participate in Hindu rituals and ceremonies, take a dip in the holy Ganges River, and explore the many ancient temples and ashrams that dot the city.
The spiritual heart of yoga-Rishikesh, offers a unique blend of ancient spirituality and modernity and attracts thousands of people each year who come to deepen their yoga and spiritual practice.
Yoga Styles and Programs for Every Body and Mind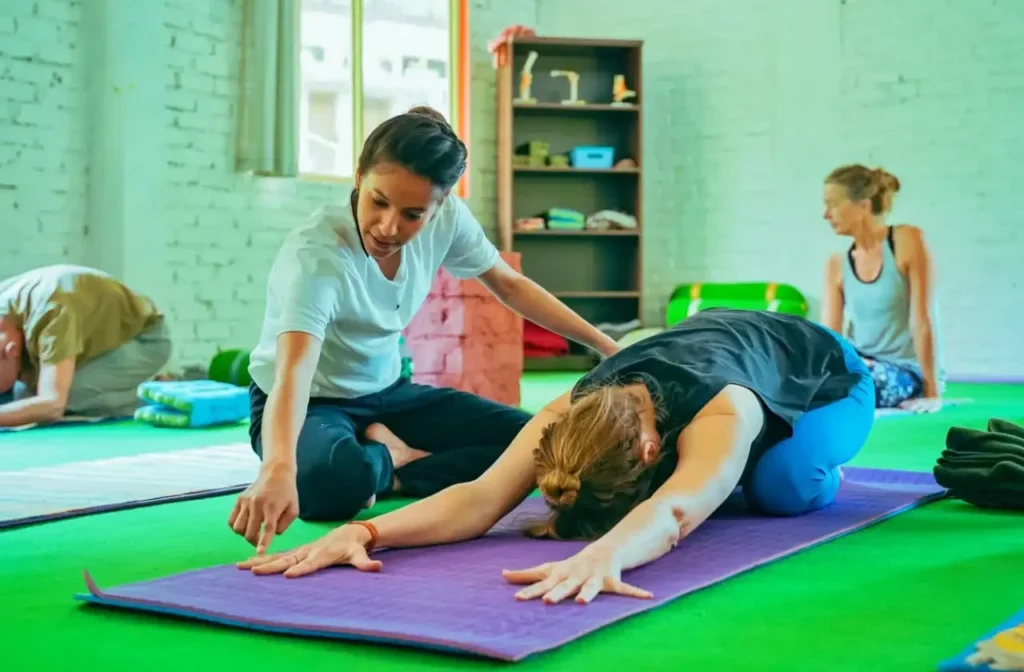 Many people in today's fast-paced society suffer from burnout and depression as a result of their demanding schedules and the pressure to always be on the move. Yoga, however, offers a solution to this problem by providing a way to reduce stress and find inner peace.
The combination of physical movement, controlled breathing, and mindfulness can help calm the mind and reduce feelings of stress and anxiety. Regular yoga practice improves symptoms of depression, anxiety, and other mental health conditions. Additionally, the mindfulness aspect of yoga can help to increase self-awareness and improve overall emotional well-being.
Also, yoga has a wide range of styles and programs, each with its own unique approach to physical and mental wellness. Yoga styles and program are for all levels of students, from beginners to advance. Every yoga style and program has its own benefits for our body and mind. Let's list a few reasons why people should add yoga styles and program to their schedules.
Hatha, restorative, or yin yoga: The yoga practice includes low, gentle movements and deep breathing, which help reduce stress.
Vinyasa, Kundalini, and Bhakti yoga: Practicing this yoga brings a sense of inner peace and helps reduce negative thoughts. The practice is based on movement, breathing, and meditation. This yoga is good for improving your mental health.
Iyengar, gentle, or therapeutic yoga: These styles focus on slow, controlled movements and proper alignment, making them great for reducing pain and promoting healing.
Kundalini, Hatha, and Yoga Nidra: These yoga practices use deep breathing, meditation, and relaxation to calm the mind and encourage peaceful sleep.
Ashtanga, Power, or Bikram yoga: People who want to increase their level of physical fitness These yoga practises are excellent for enhancing strength, flexibility, and endurance since they include more strenuous motions and physical difficulty.
Kundalini, Ashtanga, or Vinyasa yoga: These yoga practices help to educate the mind to be more present and focused since they combine breath control and awareness.
Iyengar, Anusara, or Restorative Yoga: For better posture, focus on correct alignment and the development of the neck and spine-supporting muscles.
Overall, yoga is a journey of self-discovery, inner peace, and physical wellness and is a holistic practice that's worth considering. Join Mindflow Harmony, the best yoga school in Rishikesh to experience and learn yoga styles and programs.
A Look at Best Yoga School Facilities and Amenities In Rishikesh
A best yoga school in Rishikesh is a yoga journey; from the moment you step inside, it becomes much more than just a place to practice yoga. It is a haven where you focus on your physical, mental, and spiritual well-being while escaping the stresses of everyday life.
Experience a new level of peace, tranquility, and inner balance with exceptional amenities and facilities. Mindflow Harmony Yoga Center has everything you need to deepen your yoga practice and nourish your mind, body, and soul. Yoga practitioners will discover the true essence of yoga and mindfulness at Mindflow Harmony Yoga Center, the best yoga school in Rishikesh.
Facilities and amenities at Mindflow Harmony, the best yoga school in Rishikesh will deepen your practice and nourish your mind, body, and soul. The facilities and amenities includes-
Comfortable mats, props, and blankets for a safe and comfortable practice.
There are quiet and serene meditation rooms where you can sit and meditate, either alone or in a group setting.
Healthy food options that are carefully crafted to nourish and support your yoga practice and your body before and after your yoga practice
Outdoor spaces to practice yoga and meditation surrounded by nature and fresh air.
Clean and comfortable changing rooms are complete with lockers for your personal belongings.
With their commitment to providing the best possible experience, you're sure to leave feeling refreshed, rejuvenated, and ready to face the world with a new sense of purpose.
Transform yourself with Skilled Teachers and Instructors
The thought of starting a yoga practice can be confusing for many people, especially if they're not sure where to begin or how to do it safely. That's why it's so important to practice yoga under the guidance of trained and experienced teachers.
Practicing yoga with the guidance and support of experienced teachers and instructors boosts your confidence, eliminates the fear of doing incorrect poses, lowers your risk of injury, and allows you to get the most out of your practice. Experienced yoga teachers modify poses to suit individual needs and will provide hands-on adjustments and verbal cues to help you deepen your practice.
In addition, practicing yoga with a trained teacher also allows you to unlock your full potential. Experienced yoga teachers and instructors guide you through the different aspects of the practice, including posture, breathing, and meditation. With their help, you'll be able to explore new yoga techniques and deepen your understanding of yoga.
Begin your journey with the best yoga school in Rishikesh– Mindflow Harmony today; whether you are a beginner or an advanced practitioner, your teacher will provide you with the best and most appropriate guidance and support you require to achieve your goals and deepen your practice. Also, practitioners feel motivated and inspired to keep going, as our experienced yoga teachers will create a positive and uplifting atmosphere so they can focus on their own growth and development.
Affordable Yoga Classes for All Budgets
Whether you are a beginner looking for a basic yoga class or an experienced practitioner seeking advanced training, Mindflow Harmony offers a range of options to fit your needs and budget. While the cost of practicing yoga varies depending on the type of class and the yoga course you choose, also, consider which yoga school and location you choose to pursue the yoga classes.
The basic idea of the cost and budget for different yoga courses are as follows:
200-hour yoga teacher training modules cover a variety of topics. Only a few topics are mentioned in this (meditation, pranayama, shatkarma, asana practice, mantra chanting, silent meditation), and the cost of this program starts at 850 USD with two people sharing a room and all facilities like healthy food.
The course includes 15+ mediation & mindfulness techniques which help to understand mind-emotion-body correlation. 15 meditation techniques include (Morning Meditation /Breathing Purification Techniques/ Shatkarma, Evening Meditation Practice for Energy Awakening/Movement and Music Mediation and many more yoga practice) a silent retreat for 2 day. The cost of the program starts from 1199 USD with 2 sharing room and all facilities included in this.
The course includes anatomy and therapy yoga teacher training, and practice includes active movements, passive movements, and many more movements. The course starts from 350 USD with 2 sharing room and all time healthy food facilities.
Every yoga teacher training covers different forms of yoga and asana and has different modules, durations, and practices.
Conclusion
Yoga school in Rishikesh provides the peaceful atmosphere and considered as the best place for taking yoga training. Best yoga school in Rishikesh attracts students with various backgrounds and degrees of experience, but what unites them is their passion of yoga and their desire to undergo personal transformation. Whether you're a beginner looking to try yoga for the first time, or an experienced practitioner looking to deepen your practice, you'll find a supportive and inclusive community in Rishikesh.
People should add yoga in their schedule as its have many benefits on overall health. Take step towards a healthier and happier life.
Follow Us On
Facebook: Mind Flow Harmony
Instagram: mind_flowharmonyacademy